Introduction to Judaism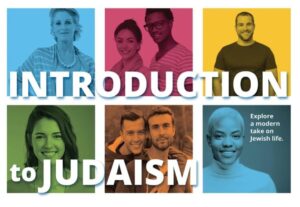 This course, developed by the Union for Reform Judaism, is a multi-session course for adults interested in exploring Jewish life through the lens of Reform Judaism. It encourages students to explore a modern take on Jewish life, and to engage with Jewish values, celebrations, and spirituality. Questions are encouraged and multiple perspectives will be explored.
The course is open to all, including Jews who want a meaningful adult Jewish learning experience, individuals considering conversion, interfaith couples, and spiritual seekers. The program welcomes people from all backgrounds and is LGBTQ-friendly. Topics will include holidays, life cycle celebrations, core beliefs, prayer, the Bible and other sacred texts, history, antisemitism and the Holocaust, Israel, the North American Jewish experience, and the diversity of the Jewish people today. 
Bi-weekly sessions will begin in late January 2022 and will continue for 18 sessions; students can begin without committing to the full slate of classes. Classes will be held Sundays from 2 to 3pm.  The class will be held in person at Temple Sholom (for those who provide proof of full vaccination) and students can also participate online through Zoom. There is no cost to attend the course, but students are asked to purchase the URJ textbook ($35.00). The course will be led by Jennifer Bunde, rabbinic intern at Temple Sholom, who is in her fourth year of rabbinic study at the Academy for Jewish Religion, California. For more information about the course contact Jennie at templesholomgalesburg@gmail.com / 309-343-3323.
To register, please visit: https://reformjudaism.org/learning/judaism-classes/introduction-judaism/introduction-judaism-temple-sholom-galesburg-il
To purchase the book*, please go to: https://www.ccarpress.org/shopping_product_detail.asp?pid=50395
*For those interested in conversion, scholarships may be available to cover the cost of the textbook.